DeBlois Electric is committed to growing from within and celebrates National Apprenticeship Week, November 8-14, 2020.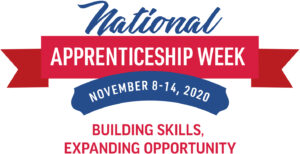 In conjunction with Associated Builders and Contractors, we developed our own in-house apprenticeship program about two years ago. Now, we have nearly 20 team members working towards their electrical journeyman licenses. The program includes self-paced online learning with continuous on-hands training. The company converted the second floor of the office into an education center, where the apprentices can gather to study, test, or get help from instructors.
The program is managed by Tony Reny with oversight from Andy Bosse. Current apprentices are:
Zach Berube, Andrew Bonnayer, Austin Bousquet, Brian Crane, Joe Gagne, Tim Lewis, Nathan Mercier, Rodney Mercier, Stephen Morey, Mack Rioux, Nolan Rioux, Isaac Roberts, Brian Roy, Nick Simoneau, Caleb Stopher, Patrick Tshala, Kody Voisine, Xzabier Weaver, and Matt Webber.